Please enter your contact below and click "PROMO QUOTES" to receive sample pricing on this Tektronix promotion.
The Award-winning 3 Series Mixed-Domain Oscilloscope
Gets Even Better with Industry-first Features and Big Savings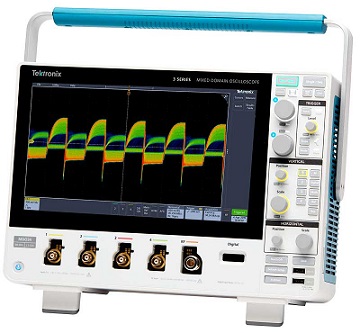 Experience a big, high-definition display in a compact, portable scope. An award-winning, made-for-touch interface turns the learning curve into a step function. The unique built-in spectrum analyzer option makes it great for RF analysis.
11.6" HD (1920x1080) touchscreen
100 MHz - 1 GHz analog bandwidth
2 (MDO32) or 4 (MDO34) analog channels
16 optional digital channels
5-in-1 instrument (Scope, Spectrum analyzer, Digital Voltmeter, Frequency counter, AFG)
5 Gs/s maximum sampling rate, and 10M record length Optional built-in spectrum analyzer in 1 GHz or 3 GHz version
Limited Time Offer:
Buy any 3 Series MDO and get 16 digital channels (3-MSO)
FREE
, plus
75% off
3-BND application bundle.
3-BND
includes:
3-SRAERO Aerospace serial triggering and analysis (MIL-STD-1553, ARINC429)
3-SRAUDIO Audio serial triggering and analysis (IS2, LJ, RJ, TDM)]
3-SRAUTO Automotive serial triggering and analysis (CAN, CAN FD, LIN, FlexRay)
3-SRCOMP Computer serial triggering and analysis (RS-232/422/485/UART)
3-SREMBD Embedded serial triggering and analysis (I2C, SPI)
3-PWR Power measurement and analysis
3-SRUSB2 USB serial triggering and analysis (USB 2.0 LS, FS, HS)
Promotion Terms:
This promotion applies to new purchase of 3 series MDO only and expires September 30, 2020.
Tektronix reserves the right to change or cancel this program at any time.